Rooms To Let!
Knox is thrilled to announce that following a huge earthquake-strengthening project, the chapel and meeting rooms of the Knox Centre have emerged safe and wonderfully refreshed. Gone are the "earthquake prone" notices, and along with them all the cosmetic marks and scars of earthquake damage. We have a wonderful new suite of rooms available for community gatherings, new carpet and paint. Since we're properly coded, we now can hold any event in any of our rooms (including young-people education events). New photos of our rentable rooms are on the way. Check in with the office for advice about meeting space availability - (03) 379 2456 or use our contact page to send a message.
Ground floor rooms and toilets fully accessible to the disabled.
Off-street Parking
Meeting spaces on the ground floor
The Church
Opened in February of 2015: seating 400 people, the church boasts a significant pipe organ and sophisticated public address system (mixing and play back facilities).
The Hall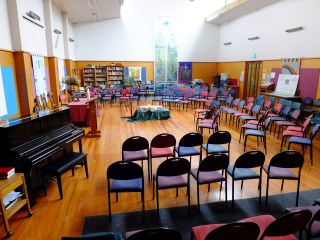 The Hall With movable seating, a wooden floor, comfortable chairs, an upright piano, a sound system with multiple microphones, a screen for data projection (and black-out blinds to assist data projection).
The Lounge
is carpeted, with comfortable chairs and a piano. Easy access to the kitchen. Public address system and a data projection screen.
The Chapel
a carpeted, very quiet space with moveable seating. The chapel, with a devotional Christian / religious feel, has a good music playback system equipped for CDs and a piano.
The Committee Room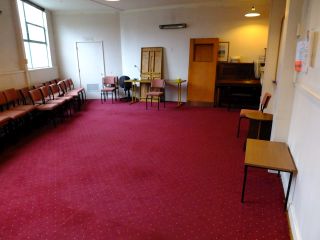 is carpeted with comfortable chairs and a fixed whiteboard.
The foyer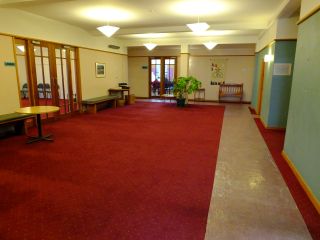 can be used as a gathering / reception or display area with plenty of space - great for art displays, community information events. A TV screen is available for slide shows in the background.
Kitchen
We have a kitchen which is fully equipped with 2 modern standard ovens, a microwave, dishwasher, boiling water on tap, crockery and utensils to cater for up to 100 people.
Our Toilets
with both men's and women's featuring disabled access.
Parking
is available in the Knox car park adjacent to the Knox Centre on a first come first served basis.
Meeting spaces on the first floor

A wee Interview Room Very quiet and private, this room has been used in the past for counselling and interviews.

The Sala del Sol The Sala del Sol is the usual meeting place for our Sunday School, so features lots of colour, eclectic furniture, comfy chairs and a large whiteboard.