Rooms To Let - There Is Room!
Within Christchurch's burgeoning Victoria Street precinct, Knox provides a brilliantly well located, warm and comfortable, attractively affordable set of rooms for hire. We see our rooms not as a commercial resource, but as an opportunity to partner good community initiatives which make life in the city more humane, engaging, responsible and even fun. Since our primary goal is not "the making of money", we keep our rental rates as low as possible.
Please ask our bookings' officer for rates, availability and advice. Jane Ellis - , (03) 379 2456), or use our contact page to send a message.

&nbsp

Ground floor rooms and toilets fully accessible to the disabled.

Off-street Parking
Available on the ground floor
The Church
Opened in February of 2015: seating 400 people, the church boasts a significant pipe organ, Yamaha grand piano, sophisticated public address system (mixing and play back facilities).
The Hall - not currently available for hire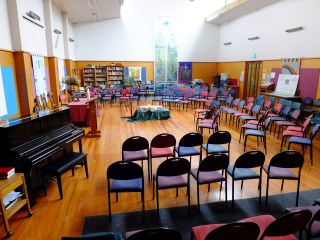 With removable seating, a wooden floor, comfortable chairs, a fine upright piano (and a grand piano available for separate hire from a regular tenant), a modern sound system with multiple microphones, a screen for data projection.
The Lounge -
is carpeted, with comfortable chairs and a piano. Easy access to the kitchen. Public address system.
The Chapel - not currently available for hire
a carpeted traditional space with moveable seating. The chapel, with a traditional Christian / religious feel, has a good music playback system equipped for CDs and a piano.
The Committee Room - not currently available for hire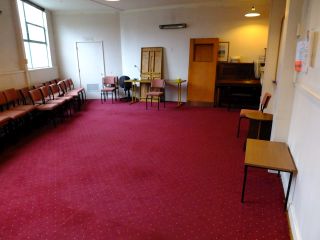 is carpeted with comfortable chairs, a piano and a fixed whiteboard.
The foyer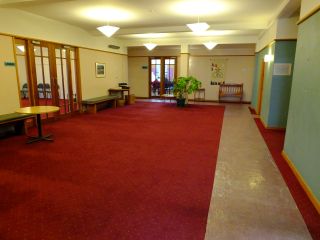 can be used as a gathering / reception or display area with plenty of space - great for art displays, community information events.
Kitchen
We have a kitchen which is fully equipped with 2 modern standard ovens, a microwave, dishwasher, boiling water on tap, crockery and utensils to cater for up to 100 people.
Our Toilets
with both men's and women's featuring disabled access.
Parking
is available in the Knox car park adjacent to the Knox Centre on a first come first served basis.