News
General News
&nbsp&nbsp
Knox Life
&nbsp&nbsp
Service / Notices
&nbsp&nbsp
Sermons
&nbsp&nbsp
July&nbsp 23,&nbsp 2021.&nbsp
The latest Pastoral Newsletter
Since last year's lockdown, when we had a weekly pastoral newsletter to keep everyone in touch, we've been circulating a simple newsletter in the months when "Knox Life" isn't published. The latest newsletter is here. View Document

June&nbsp 16,&nbsp 2021.&nbsp
Knox Singers Concert
Knox Singers concert: Save the Date! Saturday 26 June 7.30pm and Sunday
27 June 2.30pm. The programme includes Haydn Missa Brevis, Cantique de
Jean Racine, plus works by Bruckner and others.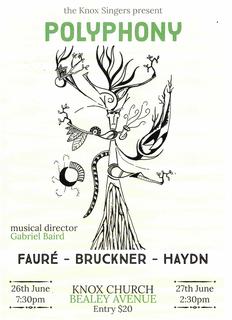 May&nbsp 30,&nbsp 2021.&nbsp
This week's Sermon Practice
The link to the video of this week's sermon, A Journey for the Former Self, will go live at 10:00am, Sunday 30 May. This is the last Sermon Practice video for the moment. Go to: https://youtu.be/BJ70poug81g


May&nbsp 23,&nbsp 2021.&nbsp
This week's Sermon Practice
This weeks video sermon, God's new Kia Ora, has been posted online. For the link, which goes live at 10:00am on Sunday 23 May, go to: https://youtu.be/gSr_ZlFb4mo
This will be the second to last online sermon, since in non-lockdown times the viewer numbers are so small, the recording work isn't really a worthwhile investment of time. It was good that Knox explored this alternative way of sharing the preaching ministry more broadly, but some other venture will need to commend itself.

May&nbsp 16,&nbsp 2021.&nbsp
This week's Sermon Practice
The link to this week's sermon, The Matter of Judas, goes live at 10:00am on Sunday 16 May. Go to: https://youtu.be/GT3yVvD_bgg


May&nbsp 09,&nbsp 2021.&nbsp
This week's Sermon Practice
A link to this week's sermon, "A structural analysis of love, commandment and living things - woohoo" goes live at 10:00am, Sunday 9 May. m Go to: https://youtu.be/Us_CxixhkOI


May&nbsp 02,&nbsp 2021.&nbsp
This week's Sermon Practice
The link for this week's sermon, "Philip's world is different", will go live at 10:00am on Sunday 2 May. Go to: https://youtu.be/iMhOSTzl2qs


April&nbsp 25,&nbsp 2021.&nbsp
This week's Sermon Practice
The link to this week's sermon, "Beyond the enquiry, what really matters?", will go live at 10:00am on Sunday 25 April. Go to: https://youtu.be/TKkF3u9HzA8


April&nbsp 18,&nbsp 2021.&nbsp
This week's Sermon Practice
The link for this week's sermon, "The sleepless night", will go live at 10:00am on Sunday 18 April. Go to: https://youtu.be/owvY_Ieomxw


April&nbsp 11,&nbsp 2021.&nbsp
This week's Sermon Practice
This weeks video sermon, "Time to sell the boat?", will be available from 10:00am on Sunday 11 April. Go to: https://youtu.be/Lmj6thn2Tlg


April&nbsp 04,&nbsp 2021.&nbsp
Easter Day Sermon Practice
The Easter sermon can be watched from 10:00am on Good Friday, at: https://youtu.be/oE8CqfvT-ek



April&nbsp 02,&nbsp 2021.&nbsp
Sermon Practice for Good Friday
The Sermon Practice for the Good Friday reflection will be available from 10:00am on Friday 2 April. Go to: https://youtu.be/Cxr5bvAmvbs