News
General News
&nbsp&nbsp
Knox Life
&nbsp&nbsp
Service / Notices
&nbsp&nbsp
Sermons
&nbsp&nbsp
Rebuild
&nbsp&nbsp
November&nbsp 11,&nbsp 2018.&nbsp
When guns fall silent
A morning service to mark the one hundredth anniversary of the end of the First World War.

The Knox Singers sing "For the fallen", Patrick Shepherd
Hymns: Your kingdom come, Blest are the pure in heart, Christ is our peace, Now thank we all our God.
The sermon is "Dont be led astray".
We have an Arimistice Day Reflection and some minutes of silent remembrance.
Music for reflection is presented by Daniel Cooper and Rakuto Kurano.
June&nbsp 24,&nbsp 2018.&nbsp
A brand new window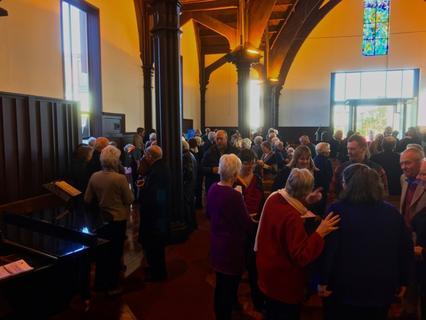 On Sunday 24 June about 170 people gathered to celebrate the installation of the new Graham Stewart stained glass window gifted to Knox by John and Ann Hercus. After a moving service, during which John spoke lovingly of Duncan, Helen, Agnes and Ian Hercus, food and drink was shared, Graham spoke, and hearts were gladdened. It was a tremendous occasion. We plan to hold an open day on Sunday 5 August (1:00pm-3:00pm), so that interested people can view the window. It is hoped that Graham will be present at the open day to answer any questions.
It goes without saying that Knox is very grateful to the Hercuses for gifting us such a beautiful window.
June&nbsp 21,&nbsp 2018.&nbsp
The separation of children from their parents
At the Knox Church Council meeting last night, a discussion was held about Donald Trump's zero-tolerance policy, by which the children of unauthorised migrants were being separated from their parents.

Council declared its deploring of that policy. It asked the Council clerk to declare as much to the US Ambassador to New Zealand. It also asked the minister to write an open letter to the editor of the Christchurch Press. This is the letter that has been submitted to the editor of the Press:

The Council of Knox Church, Christchurch, has watched the way that Donald Trump's zero-tolerance policy concerning border control is causing children to be separated from their parents. Regardless of how parents are assessed, and regardless of whether they have committed immigration crimes, we vehemently reject any process by which children are punished for the actions of their parents.

We notice that this implementation of separation coincides with the USA's withdrawal from the United Nations' Human Rights Council. We note Nikki Hayley's (US Ambassador to the UN) explanation for withdrawing from the Council: "The world's most inhumane regimes continue to escape its scrutiny, and the council continues politicizing scapegoating of countries with positive human rights records in an attempt to distract from the abusers in its ranks."

Knox urges USA to hear the children, and to realise the thinness of their self-condemning rhetoric concerning inhumane regimes escaping scrutiny.

Rev. Dr Matthew Jack
for the Council of Knox Church, Christchurch.






June&nbsp 10,&nbsp 2018.&nbsp
American churchs speak to the times
This link leads you to see a wide variety of American church leaders speaking about the current political time.

https://www.facebook.com/SojournersMagazine/posts/10155595109767794

February&nbsp 24,&nbsp 2018.&nbsp
Mission Discernment - Update
Last year, following the fifth mission discernment forum, input was sought from the whole congregation into commenting on the ideas that had come forth. Those comments were added into the pot, and the ideas were sorted under big theme headings. In a couple of weeks, Knox Council is gathering for a special retreat to consider the major theme headings, and to discern priorities for further development. Please hold Council members in your thoughts and prayers as this important next stage is undertaken.