News
General News
&nbsp&nbsp
Knox Life
&nbsp&nbsp
Service / Notices
&nbsp&nbsp
Sermons
&nbsp&nbsp
Rebuild
&nbsp&nbsp
April&nbsp 24,&nbsp 2019.&nbsp
Events in Sri Lanka
Knox expresses deep grief and high concern over the Easter Day suicide bombings in Sri Lanka. We stand in solidarity with the innocent people who gathered to worship (or who simply stayed at hotels) in attacked places around the country.
We affirm our commitment to be a people of peace, and are seeking ways to communicate with those affected.
April&nbsp 19,&nbsp 2019.&nbsp
After the shootings
We have compiled some material offered by Knox and friends in response to the shootings, in Christchurch, on 15 March 2019. View it here:
View Document
March&nbsp 15,&nbsp 2019.&nbsp
He iwi tahi tatou
November&nbsp 30,&nbsp 2018.&nbsp
Knox's Mission Plan
Following an extended period of discernment, we have produced Knox's proposed Five Year Mission Plan. Knox Council has approved it for circulation to the wider community, and you'll be invited to adopt it at a congregational meeting after church on Sunday 3 February 2019. Please take a good look at the document before then. If adopted, this Mission Plan will shape much of Knox's life for the next five years. Click the link below.View Document

June&nbsp 24,&nbsp 2018.&nbsp
A brand new window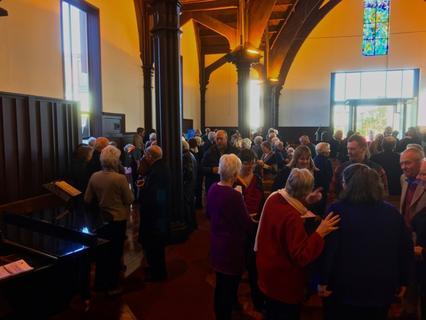 On Sunday 24 June about 170 people gathered to celebrate the installation of the new Graham Stewart stained glass window gifted to Knox by John and Ann Hercus. After a moving service, during which John spoke lovingly of Duncan, Helen, Agnes and Ian Hercus, food and drink was shared, Graham spoke, and hearts were gladdened. It was a tremendous occasion. We plan to hold an open day on Sunday 5 August (1:00pm-3:00pm), so that interested people can view the window. It is hoped that Graham will be present at the open day to answer any questions.
It goes without saying that Knox is very grateful to the Hercuses for gifting us such a beautiful window.
June&nbsp 21,&nbsp 2018.&nbsp
The separation of children from their parents
At the Knox Church Council meeting last night, a discussion was held about Donald Trump's zero-tolerance policy, by which the children of unauthorised migrants were being separated from their parents.

Council declared its deploring of that policy. It asked the Council clerk to declare as much to the US Ambassador to New Zealand. It also asked the minister to write an open letter to the editor of the Christchurch Press. This is the letter that has been submitted to the editor of the Press:

The Council of Knox Church, Christchurch, has watched the way that Donald Trump's zero-tolerance policy concerning border control is causing children to be separated from their parents. Regardless of how parents are assessed, and regardless of whether they have committed immigration crimes, we vehemently reject any process by which children are punished for the actions of their parents.

We notice that this implementation of separation coincides with the USA's withdrawal from the United Nations' Human Rights Council. We note Nikki Hayley's (US Ambassador to the UN) explanation for withdrawing from the Council: "The world's most inhumane regimes continue to escape its scrutiny, and the council continues politicizing scapegoating of countries with positive human rights records in an attempt to distract from the abusers in its ranks."

Knox urges USA to hear the children, and to realise the thinness of their self-condemning rhetoric concerning inhumane regimes escaping scrutiny.

Rev. Dr Matthew Jack
for the Council of Knox Church, Christchurch.