History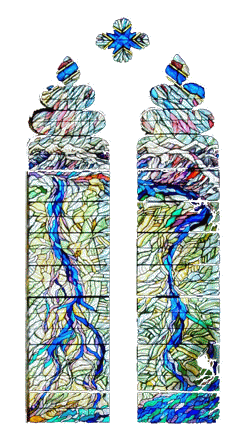 In terms of our recent history, you may care to check out our archive of the rebuild of the Knox Church building, following the Canterbury quakes of 2010 and 2011 christchurch Earthquake Rebuild archive.


Our roots go back to 1880 when the church, first known as the "North Belt Church," was established on part of its present site under the Rev. David McKee from Dublin, Ireland. The first wooden church building was designed by Samuel Farr and built of timber. Increasing attendances led in 1902 to the construction alongside the original church of a new building, designed in a distinctive Gothic Revival style by the architects Robert and Edward England.
This building, featuring soaring timber archways, housed an imposing pipe organ and two beautiful stained glass windows set into the west end of the nave. These windows depicted the blue-braided rivers of Canterbury flowing down from the mountains across the plains to the sea.

The original wooden buildings were replaced in 1964 by a modern annex comprising a spacious hall, committee rooms, offices and associated facilities.

In February 2011, the Gothic Revival building was severely damaged in an earthquake. As the result of much work by many dedicated people, the ruined building was rebuilt, dedicated, and re-opened in February of 2015. In June, 2018, a new stained glass window was installed. (See the rebuild page.)

The damaged 1902 Edgar Jenkins organ was restored and expanded by the South Island Organ company, now being a 3 manual detached console instrument with electro-pneumatic action and a digital transmission system - with a new trumpet rank.
Since 1880, the mission of the Church has been taken forward by a succession of 11 dedicated ministers supported by resourceful and dedicated congregations. We now carry on the vision of the early founders of our Church with hope, love and confidence.